---
---
Group Focus
Women
Life-Stage
Multi-Age
When
Wednesdays at 9:30 AM
Where
On-Campus
Room: Parlor
Resumes September 13

9:30 a.m.–12 noon

Topic:  God Is Closer than You Think
             by John Ortberg

Women, Ages 40's-70's

This ongoing group is open to women of all ages who desire fellowship as we study God's Word. 

We have trust to share and uplift one another in support.  Everyone plays a vital role in the discussions of our studies.

During the summer months we are not meeting, we get together for lunch monthly. Prayer requests are sent to the group as needs and answered prayer come into our lives.

Led by Marianne Morrison.

For more information, contact Marianne Morrison at 615-428-8647 or Susan Morton at 615-202-1634.

Childcare is available by reservation at childcare@brentwoodbaptist.com or 324-6160.

Photo below, from left to right:
Susan Morton, Delores Johnson & Marianne Morrison.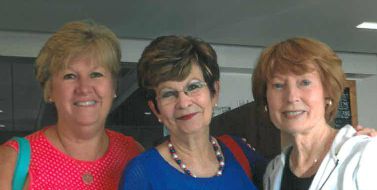 More Information
For more information or to visit this group , please contact Marianne Morrison.